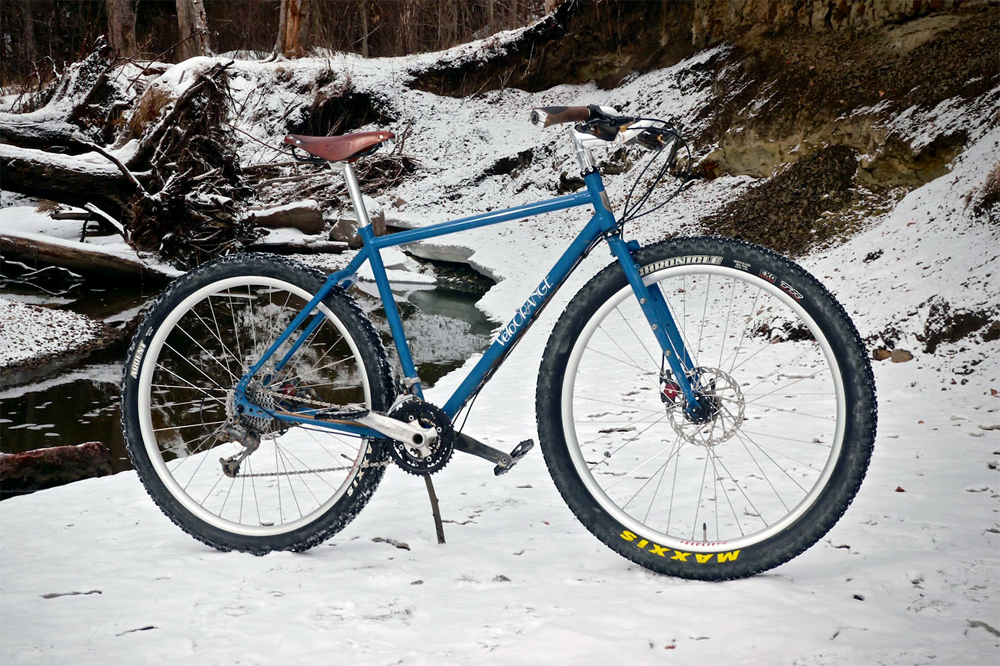 The Velo Orange, a true classic. From the segmented fork, to the clean lines, to the solid cerulean paint with brushed a metal headbadge. The Velo Orange Piolet harkens back to a time in mountain biking that predates suspension and indexed shifting. Though its looks are where the similarities end: unlike the early mountain bikes that heralded the off road boom of the 80s, the Piolet has disc brakes, 29" wheels, with 27.5+ compatibility, huge tire clearances, and more braze ons than you can count.
I guess that would make the Piolet a "modern classic". Aesthetics aside, this is one serious touring bike – and a touring bike it most certainly is. Make no mistake: the Piolet is not your current crop of slacked-out trail machines with super-short chainstays and lightweight tubing. This thing is a beast. At 460mm, the chain stays seem to go on for days. The angles are steep, at least compared to most modern mountain bikes. And the bottom bracket gets low – 70mm drop, though not as low as the similarly-minded Surly ECR.
I've ridden the same stretches of trail numerous times on the Velo Orange Piolet
Having ridden it in many conditions, I can say that all of these aspects speak volumes to the bike's real-world handling, as I found during 6 months of mountain biking, commuting, and touring on it. For mountain biking, Edmonton, Canada, is somewhat unique in that an extensive network of mountain bike trails is accessible right from the city centre, via its huge river valley. Conditions are usually dry in the summer and slippery in the winter. I've ridden the same stretches of trail numerous times and on numerous bikes, such as a Kona Unit, Marin Nail Trail, and the Velo Orange Piolet.
What I've found is that the Piolet is really great for flowy, non-technical single track.
With a 2.4" Maxxis Ardent in the rear and a 3.0" Chronicle in the front, these massive wheels were able to eat up roots and rocks, despite the lack of suspension. The big 29+ tire in the front also helps navigate some deeper snow, though it's certainly no fat bike.
Handling wise, I was able to lift the front end over obstacles fairly easily. The frame responded well to my hard pedalling efforts, though the long chainstays didn't exactly lend any "nippiness" to the bike's handling. It was only in the more technical areas of the trail that left something to be desired, especially on technical descents. Specifically, the ultra-long wheelbase had me feeling like I was steering a barge and the steep head tube angle had me planting my feet on some descents that I'd otherwise be able to follow through on a proper mountain bike.
Escaping part of the brutal Edmonton Winter, I took the Piolet down to Colombia for a month to tour some back roads. Having cycled the paved and moderately trafficked Pan-American highway last time, we were keen to discover routes less frequently travelled. Sticking mainly to the mountains in the provinces of Boyaca and Santander, we pedalled mainly through dry, sweltering heat on dusty roads and trails. It was in this state – loaded with gear while covering large daily distances on poor surfaces – that the bike truly shined.
This month of riding saw road conditions from fresh new pavement to seriously degraded, well, river beds. The Piolet was a warrior through all of it. Velo Orange states that you can set up the bike with a traditional touring setup (i.e. racks and panniers) or with a bike packing setup. I went with the latter and I'm glad I did, if only for the assurance that my gear wasn't rattling and moving about on the really rough stuff. The Salsa
Anything Cages worked great and the VO-branded Revelate Designs frame bag – massive, due to the bike's non-suspension corrected geometry – swallowed an incredible amount of gear. This said, it's also nice to know that the burly steel frame can accommodate racks and fenders front and rear (all at the same time) if I ever choose to carry the kitchen sink. Although I only had about 20 lbs. of gear with me, I suspect the Piolet would take on another 50 without a hiccup. I was particularly impressed with how well the fork performed.
Despite its stiffness, I didn't perceive any pulsing or juddering under hard braking, even during steep descents 20 kilometers long. This means that the frameset may be overbuilt for the most die-hard minimalist, but I personally like having options and wouldn't want to limit myself from throwing on more gear if my tour called for it.
One of the hallmarks of most Velo Orange frames is their "mid-trail" geometry. Without getting too far into the nuances of steering mechanics, trail is simply a function of head tube angle, fork offset, and wheel diameter. Steeper angles and greater offset yield lower trail, while slacker angles and less offset yield high trail.
Most touring bikes have high trail which gives the bike a sensation that it corners "on rails", even with low rider panniers. Bikes that have low trail, such as a classic French randonneuse, are designed specifically such that handling is still nimble even with a front load. This makes sense for designers of conventional touring bikes  confidently hold a line with a full touring load than have nimble handling. But what about on degraded roads or single track, where you're constantly having to readjust your line as you descend through the really rough stuff?
The idea with the Piolet's mid-trail geometry is that the bike should have neutral handling whether completely unloaded or with two panniers and a basket's-worth of groceries up front. In practice, this is exactly what I've found: steering with a full front load was strangely familiar to when I had ridden it unloaded.
Though not true "low trail", I found the mid-trail geometry to be a significant benefit on rough roads. The quick handling allowed me to adjust my line and avoid irregularities that were too much for the 29" wheels to handle. On one particularly degraded section of road, I was able to climb and descend a series of rock gardens at a speed that I would not have dared dream of doing on my old Surly LHT. I was shocked at how easy it was to negotiate the terrain even with most of my gear at the front of my bike. The steering was still fairly light and maneuverable while still feeling solid and sure-footed.
Velo Orange does not sell complete bikes, so each build is essentially from the ground up. What I like about this frame is that all fittings are relatively standard. For example, quick release hubs may be dying out in the mountain bike world these days, but a 135mm rear hub and 100mm front hub are certainly way easier to find around the world than most new throughaxle systems (and a good set of Shimano hubs – Deore or higher – should last for ages anyway).
The same goes for 73mm threaded bottom bracket shells and 1 ⅛" headsets. Vertical drop outs are a nice choice for simplicity's sake and the integrated steel derailleur hanger seems very robust and shouldn't prove an issue. The frame is designed around 29 x 2.4" wheels (for sizes M, L, and XL, 26" for XS and S), though as I mentioned before, it can take 27.5 x 3.0" just as easily. If I were to build the format, though this would limit drivetrain choice to a 1x system or Surly's offset OD cranks in order to avoid chain rub on the rear tire. As it was, I had too many good 3×9 drivetrain parts to not use, so the 29 x 2.4" in the rear had to suffice. For the record, the front does clear a 29 x 3.0" Maxxis Chronicle with at least five millimeters to spare. The rear is incredibly tight with the same tire and rubbed the chainstays in corners. I doubt any 29 x 2.8" tires are in the pipeline, but that would be about the maximum for rear clearance. 2.4" tires front and rear however leave plenty of room for lots of mud.
There really isn't much I would change on the frame. Every one of the many braze ons are thoughtfully placed. Even the fork crown and seat stay bridge have threaded holes facing the tire, making for cleaner and sturdier fender installation. I do have a few nitpicky suggestions, however. I would change the location of the front derailleur housing stop. I'd imagine the current setup where it ends vertically just behind the bottom bracket will prove a longevity issue for the cable and housing, especially in wet and muddy stuff. I would also change the location for the triple boss mounts on the fork. Currently, the cages sit perpendicular to the frame, meaning that they create a high profile. I would have liked to see the mounts offset 45 degrees akin to Surly and Salsa forks in order to create a lower profile and to potentially free up space to attach a second set of water bottles with hose clamps on the other side of each leg. Better yet, I'd love to have seen a second set of dedicated braze ons!
"There really isn't much I would change on the frame. Every one of the many braze ons are thoughtfully placed."
The only other thing that irks me, and I have a feeling I'm not alone in this, is the low stack height. I would have gladly taken a taller head tube and more slope in the top tube to get rid of the giant stack of spacers under the stem. Velo Orange claims the Piolet is both drop bar and flat bar compatible. If you plan on using drop bars for this bike, you'll likely have to use an ultra-short stem if you want a decent stack height (i.e. if you size up). The other option is to use a longer stem with a whole mess of spacers underneath. If using flat bars, you'll have to use a relatively long stem in any case. Still, the price ($685 USD) is bang on and is exactly what I'd expect for this quality of frame. Similar frames such as the Surly ECR, Soma Juice, Specialized AWOL, andGenesis Longitude are right in the same ballpark.
Pros and Cons:
Pros
Thick paint and double butted steel are made to take abuse
Choice of 29" or 27.5"+ wheels give you options
Comfortable, all-day geometr
Braze ons, braze ons, braze ons!
Cons
Low stack height and drop bar accommodation makes sizing unconventional
Steel is quite hefty, a lightweight build would be fairly difficult
Not as agile on technical singletrack, though most buyers wouldn't necessarily use it for this purpose
Conclusion
Velo Orange's Piolet is truly a modern classic: though 26" wheels and rim brakes still win for being the most widely available component choices, the benefits of larger wheels and discs are an overwhelming advantage. With more of a touring-oriented geometry, the Piolet is a fantastic interpretation of what a rough stuff touring bike should be. The frame handles bikepacking loads quite well and it should also take a classic 4-pannier, loaded-to-the-gills setup without issue. Even unloaded the frame handles great, though its nature as a touring bike is unfortunately evident when trying to navigate single-track.Velo Orange obviously did their homework in designing this classy machine which will certainly stand out from the rest of the herd. Given the opportunity to do another round-the-world journey by bike, there is no question that this is the one I would take.
Weight: 29.8 lbs (13.5 kg)
Size Tested: Large (XS, S, M, and XL also available)
Price (as tested): $870.00 (CDN) frame and fork, ~ $2,550.00 as built
Recommended uses: Bikepacking, off-grid touring, round-the-world trips