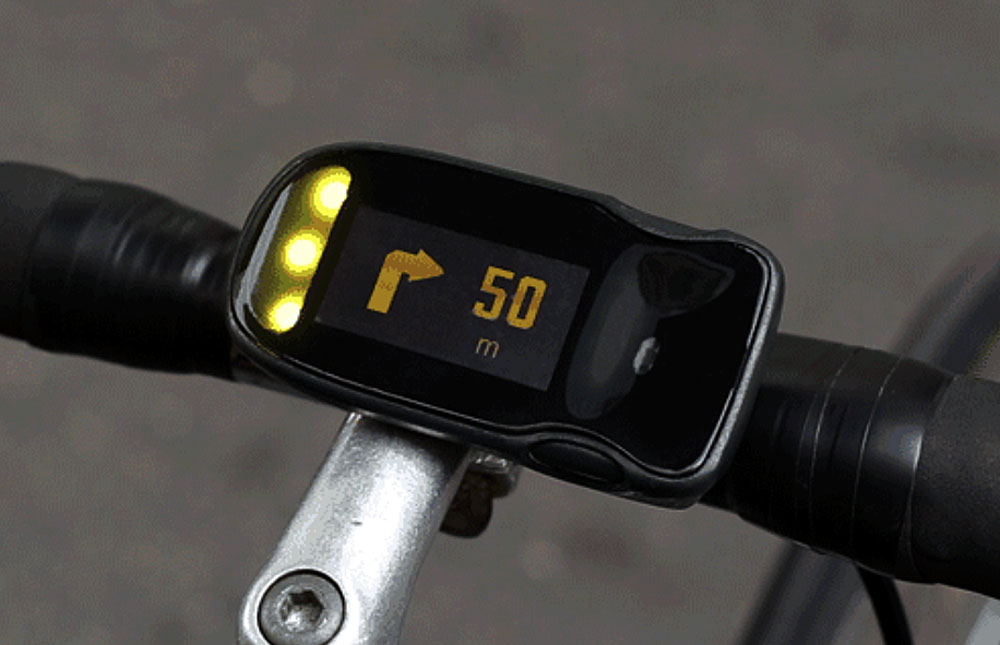 "Next generation of bike computer for smart urban cyclists: get on your handlebar just the info you need from your smartphone."
(CCN) Cool gear is all the rage, and no better place to snoop are those inventions taking wings on Kickstarter. Commenced September 2015, three men formed the company ASPHALT Lab, and registered a Kickstarter campaign to jump start the manufacturing of their new GPS and Bike Assistant they call "Haiku"
An ingenious gadget, that magnetically attaches to any handlebar. Linking with a smartphone app, the Haiku provides all the connectivity and human interaction with your portable device found in the expensive Apple Watch. Turn by turn directions for GPS functionality complete with notifications.
According to the Kickstarter campaign, "With HAïKU we are offering a new solution: all the information is available in your smartphone, leave it on your pocket and we give you access to it. Like a smartwatch optimized for your bike with clear and precise information, and gesture control on when to access it. HAïKU is a brand new category of bike and smartphone accessory designed to fit perfectly in the life and everyday rides of an urban cyclist."
Technical details for the Haiku:
1 week batteries in normal use (~12h on a bike)
Micro USB charging
Bluetooth Low Energy (BLE 4.0 and over)
The Haiku, bike computer is compatible with all major flagship smartphones:
Apple: iPhone 4s and over
Android: Samsung S3 and over, Motorola G and over, Nexus 5 and over, etc.
To date the campaign has been dubbed successful with 875 backers pledged €65,661 which exceeded the goal of €55,000. Estimated shipping commences April 2015.
Bound to be a must-have gadget for the urban rider, the Haiku is sure to replace most bicycle computers. It is estimated that it will hit the shelves in around the $195.00 Canadian. For those who are early adopters jump over to Kickstarter and order it directly from the boys at ASPHALT Lab.