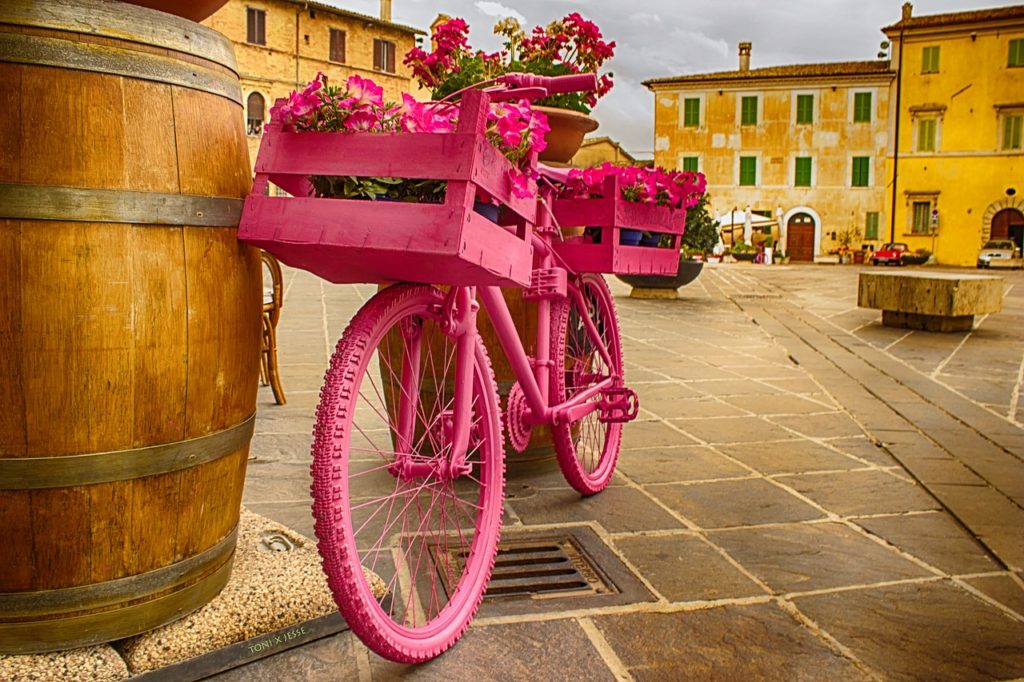 Repurposing is a good thing. Do you have an old, neglected bicycle taking up space in your garage? Did you inherit your grandpa's collection of vintage bikes from the 50s and 60s? Some people love restoring old models for riding. Others just don't know what to do with them. If you're not into making your vintage bicycle rideable again but love to tinker, why not repurpose it?  Old bikes are great for DIY'ers, artists, or trash-to-treasure enthusiasts who love to create cool stuff!
Repurposing On the Outside
A popular use for an old bicycle, especially those with baskets, is converting it to a planter. The bike can be left as is or spray painted with a bright color to coordinate with the colors of a flower garden or a contrasting color that offsets it from surrounding colors. If you are more apt to dismantle a bicycle to use the parts, why not use the wheels as a trellis? There are multiple ways to make a trellis out of old wheels. I've seen them attached to wooden poles. I've seen wheels mounted on freshly painted bicycle frames that serve as their base. I've also seen rims used as a top and bottom of a plant cage. Wire or twine runs between the wheels to form the cage. Some people use bicycle wheels to make a patio table, using clear plastic or glass as the table surface. It makes for a great conversation piece.
I ran across an amazing piece that used bicycle sprockets and stained glass in different colors. The decorative converted wheel was suspended by wires above the doorway of a covered porch.
Other outdoor repurposed bicycle projects that I've seen include bike fences, gate adornments, bikes of different colors arranged together to make an outdoor sculpture, bench seats, backs made from bike inner tubes, and so much more.
Repurposing On the Inside
Are your kitchen cabinets so crammed with pots and pans? Why not convert a bicycle wheel into a hanging rack for the overflow?  If you're on a roll (really, no pun intended), you may want to consider a bike-themed kitchen. Create light fixtures from bicycle wheels. Use sprockets on a stand for a table centerpiece. How about a bike wheel wall-hanging, with recipe cards clipped to the spokes using small, colorful chip clips?
I ran across a couple of images of steampunk fashioned clocks made from bicycle gears and chains. In true steampunk fashion, the metals were painted in copper, gold, and dark brown colors. Perfect for a man cave. Another great idea for a man cave or a bar is a wine rack.
If you're into jewelry you are in luck! Many artisans are crafting bracelets, necklaces, and earrings, using bicycle chain parts intertwined with beads. A polished or painted chain can also be used as a completed piece. There are some cute bracelets you can find in Etsy stores that are made, in part, from stainless steel bicycle spokes shaped into flower petals or words like love or peace. Even bicycle inner tubes are being used for bracelet bands and dangly earrings.
Repurposing as Gifting and Holiday Decorating
It's never too early for DIY'ers, crafters, and artists to begin planning and creating holiday gifts for family and friends. If you have a bike enthusiast on your gift list, think about embarking on a project using some of the ideas from this article or do some window shopping on Pinterest or Etsy for more ideas. Sure, there are many ready-made items you can buy; but if you are a creative who enjoys making beautiful and unique items, window shopping can bring great inspiration.
To throw out a few more ideas, here are some possible gift items along with holiday decorations that can be made from bicycle parts: bicycle chain mirror frames and tea lights; purses/pouches made of inner tubes; or painted bike wheels used to hold Christmas cards. How about tree ornaments and wind chimes made from bicycle cogs?
A Few Final Thoughts
There are so many places you can search for ideas for repurposing bicycles and bike parts. If you do a Google Image search for repurposed bicycles or repurposed bicycle parts, you will come up with a huge number of images that lead to sites where you can learn more. Some do point back to Pinterest and Etsy, but many others go to pages such as treehugger.com, which has a page of beautiful chandeliers that use recycled bicycle gears and other parts. Looking at these images can give you a good close-up from which to fashion a lovely fixture for the home.
With a general Google or Google Image search, you can find some do-it-yourself sites that are geared (again, no pun intended–really!), more toward the casual crafter or tinkerer. One such site is hometalk.com, which has a cool picture of an old tricycle turned into a planter.
Whether you're talking about repurposing, recycling or upcycling, you can spend many hours gathering ideas and information on awesome ways for turning an old vintage bicycle into something new. It's a great way to keep tangible objects of old memories while integrating them into new objects for aesthetic or practical enjoyment.